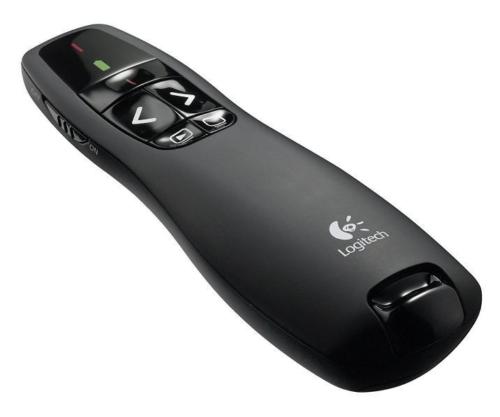 The Logitech R400 Presenter is a great solution for advancing through cues in MediaShout!
Presenter Mode,Built-in Class 2 Laser Pointer, Intuitive touch-keys for easy slideshow control. AA batteries required (best with Polaroid AA batteries)
Bright red laser pointer - easy to see against most backgrounds
Up to 50-foot wireless range for freedom to move around the room
2.4GHz RF Wireless Technology, Built-in docking bay stores receiver for easy pack up and portability
There's no software to install. Just plug the receiver into a USB port to begin. And when the show is over, you can store the receiver in the presenter
For setting up to work with MediaShout 7, follow these simple steps:
1) With MediaShout 7 open, go to Settings and then General Settings.
2) Click the Add New Controller button
3) Press either the Forward OR Back button the remote control
For setting up to work with MediaShout 6, follow these simple steps:
1) With MediaShout open, go to Settings then General Settings, then the "Remote" tab
2) To the right under Hardware/USB Remote, choose "Custom" from the drop down list.
3) Put your mouse cursor into the field for Fire Next, then press the corresponding button you want to assign to that command on your remote. Repeat for any other commands you'd like to assign. Then, just click Apply and OK.
4) Go to the Settings tab and press TOGGLE REMOTE to turn on the ability to receive remote commands. Hit this button every time you start up MediaShout to receive commands from your remote.
*If you should run into general issues with your remote outside of MediaShout that require technical troubleshooting or support, please consult Logitech's support website HERE.