MediaShout Remote provides control and preview of MediaShout presentations over your Wi-Fi network from your iPhone, iPad or iPod Touch.

Requirements
MediaShout Version 6.x (Windows or Mac), Version 5.x (Windows), MediaShout Version 4.5 (Windows) or MediaShout V1.1 (Mac) installed with the latest updates.
MediaShout Remote app purchased from the App Store.
Wi-Fi connection with all devices using the same network.
Setting Up MediaShout Remote
MediaShout Setup
Open MediaShout.
Go to Tools > Settings > Remote (V4 or V5), Settings Tab > General Settings > Remote ( MediaShout 6 PC or Mac) or MediaShout > Preferences > Remote (MediaShout for Mac V1.1.5256).
Check the box to enable MediaShout Remote Server (V4, V5 and MediaShout 6 PC or Mac), or Click the On button (MediaShout for Mac V1.1.5256).
Check the box labeled 'Presenter' (V4), 'Enable Presenter Mode' (V5), 'Enable Control Mode' (MediaShout 6 PC or Mac) or 'Presenter Password' (MediaShout for Mac V1.1.5256) and enter a password to enable remote Presenter access.
OPTIONAL: Enter a 'Viewer' password to restrict remote Viewer access.
For users running Windows 10 or the Mac version, it is recommended that you change the default Server Port to 8080.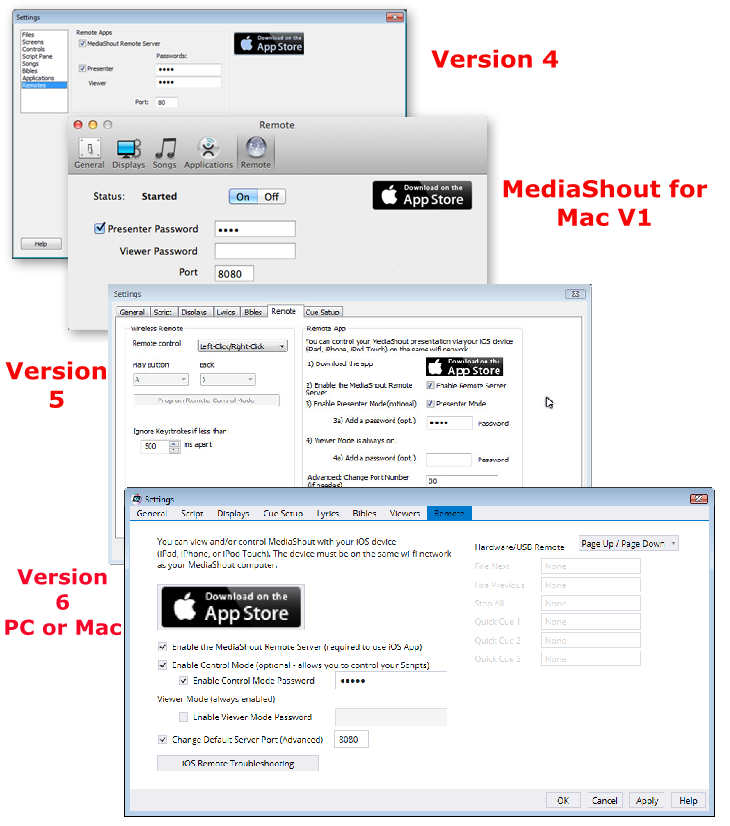 MediaShout Remote Setup
Open the app and select your MediaShout computer from the list of Available Computers.

iPad Users: Turn on Large Thumbnails to enable higher-resolution images in the app. This will require a faster connection.

Select Presenter or Viewer mode and enter any passwords when prompted.
Use the Settings button to return to a list of available computers.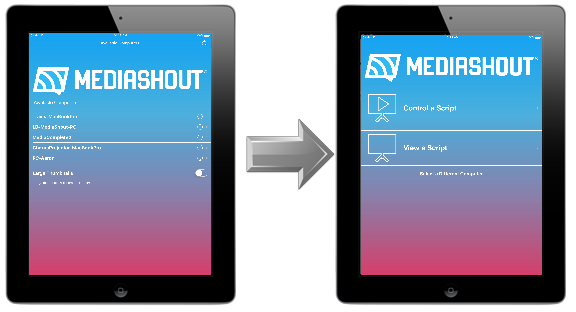 USING MEDIASHOUT REMOTE
MediaShout Remote has two modes: Viewer and Presenter.
Viewer Mode
View the presentation as it is played from the MediaShout computer. Similar to MediaShout displays, Viewer mode can access the Main Display (the presentation as-seen by the audience) or Stage Display (a confidence monitor for your stage team) by tapping the icon in the top-right corner.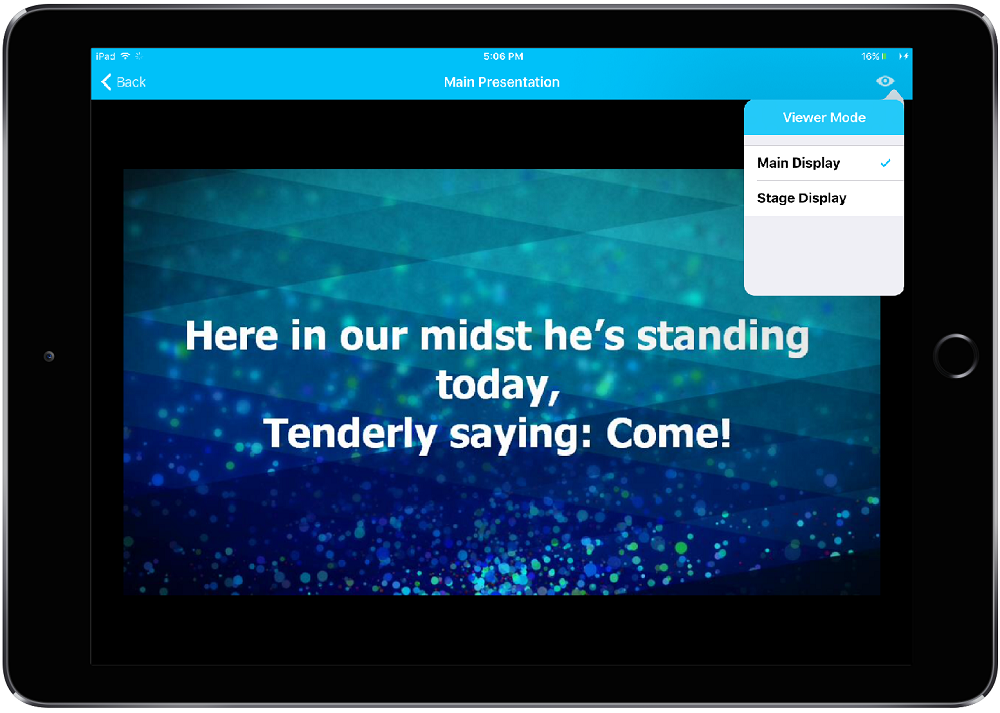 Presenter Mode
Remotely play a presentation created on the MediaShout computer. Presenter Mode provides several viewing and playback options:
Portrait View
View a presentation as it appears on your MediaShout computer
Drag your finger up and down to scroll through your presentation.
Tap the Up and Down Arrows to play the previous or next cues.
Tap a Thumbnail to play the cue
Tap the Panic Button to play any Panic Cue from the Firebox.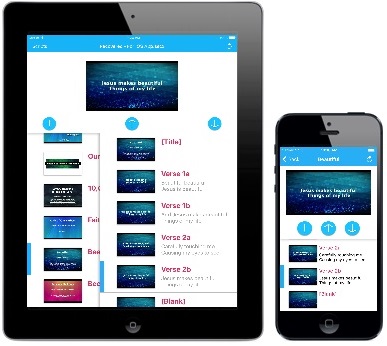 Landscape View
View full-screen thumbnails of your entire presentation. Landscape has two playback options:
Presentation Mode - Swipe right or left to play the previous or next cue.
Preview Mode - Swipe right or left to preview the previous or next cue. Double-tap to play the selected cue.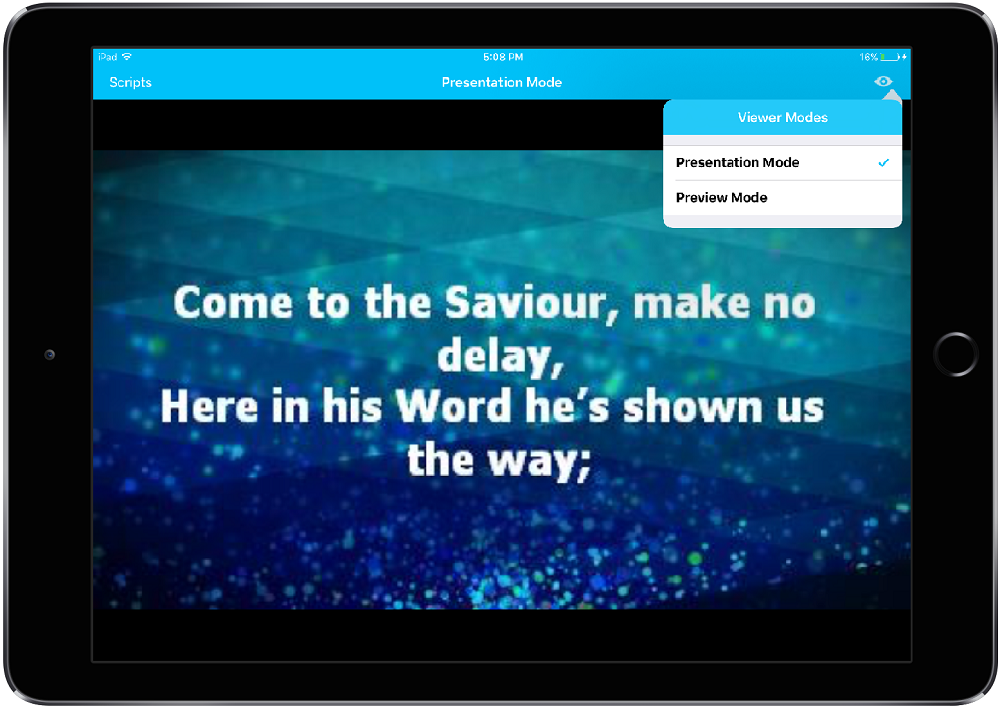 If you experience problems getting your computer to be found by the app, please follow the troubleshooting steps here: Remote App is Unable to Find Computer.