If you have made the jump from MediaShout 4 to MediaShout 6, one of the nice things is you're able to bring your v4 Song Library over to v6 with just a few simple steps. Just follow along and you'll be good to go!
To export the V4 database, do the following:

Step 1: Make sure that you have your "Decks" setup on the left-hand side of MediaShout. If you do not, go to Window and check the Box for Songs to have the Songs Deck Show.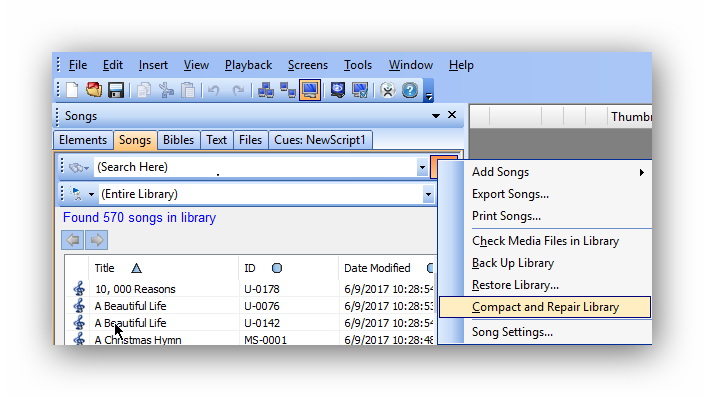 Step 2: Click the Song Library Tools (Large Down Arrow) menu and select Compact and Repair Library. When it says it has been compacted, click OK (see attached pic)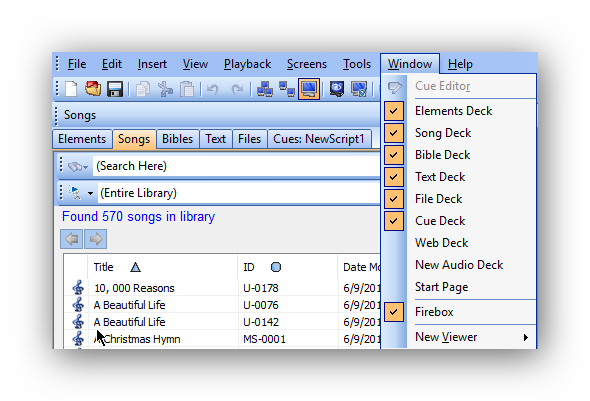 Step 3: Click the Song Library Tools menu again and select Export Songs


Step 4: Select Song text file and click Next.
NOTE: You can choose the Song data file v4 option, but we highly recommend the text file option. This is because choosing the Song data file v4 option will also import the V4 template properties (i.e. your V4 templates).Choosing the Song text file option does mean that any custom formatting and background assignments will need to be reapplied. Since there are major differences in the way V4 and V6 handle and apply templates, importing a text file eliminates any possible issues caused by the importing of the V4 template properties. The 2 videos in the links below will show you how to create templates in V6 that can be applied to your Lyrics.
Overview of Templates in MediaShout 6
Template Settings in MediaShout 6

Step 5: Click the Browse button. If it does not open a new window, click Back, select a different export option, click Next and then Back again. Re-select the Song text file option and click Next and then click the Browse button.

Step 6: Give the file a name and save it on the Desktop so it is easier to find later.
To import the V4 database into V6, do the following:
Step 1: Open MediaShout 6
Step 2: In the Home Tab, click on Insert Lyrics
Step 3: In the Insert Lyrics Window, at the top left, you will see a "gear" symbol
Step 4: Click on the gear symbol and click Add Lyrics/From Files
Step 5: Browse to the file location and double click it. MediaShout will automatically import your songs into your v6 Lyrics Library. Keep in mind, the default import file type is a MediaShout Song Database. This will need to be changed to Text files in order to see the text file you created. You will find this option in the drop down menu just above the "Open" & "Cancel" buttons.
NOTE: It can take a little time to import larger databases. It may even take a couple of minutes until you start seeing results begin to populate. However, if left to its own devices, MediaShout should import the file successfully. If you run into issues, repeat the Export Process, but this time, select Song data file v4. Then Right click on the file created and select Send To>Compressed (zipped) folder. Then email that zip file to support@mediashout.com with the subject of "Database Conversion" . We will then do the conversion at this end and send you a file with instructions.