The new MediaShout 7 License Portal now gives you the ability to manage your own activations and deactivations. To get started, you will need your MediaShout 7 license code and email address associated with your v7 license.
To access the License Portal, go to www.mediashout.com/license. If you have activated your software then you will use the email address that you used in the registration of MediaShout 7. If you have not logged in before, click the "Forgot your password?" link on the log in page. Once logged in, you will see the following image: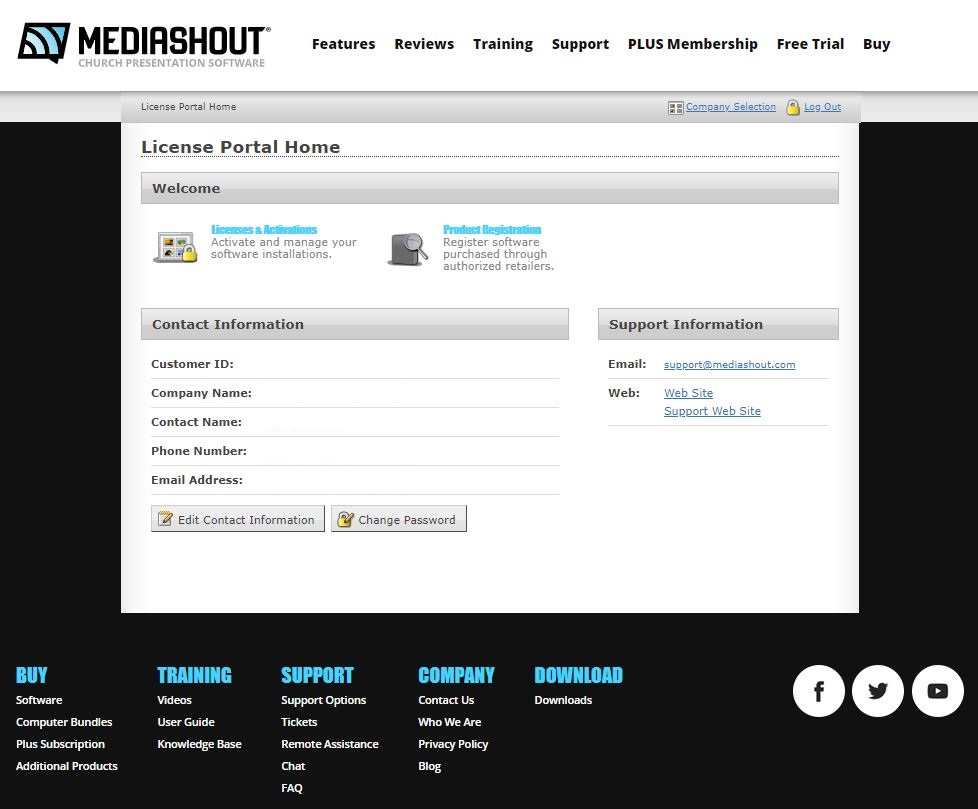 In this window you will find your Customer ID, Church Name, Contact Name, Phone Number, and Email Address. If you need to update any of this information, you can click the Edit Contact Information button. If you need to change your password, click on Change Password.
In the Welcome section, you will see two options: Licenses & Activations and Product Registration.
If you click on Licenses & Activations you can manage your license code. You will see your code(s) that are registered to your account for MediaShout 7. The License ID is the first part of your License Code. Click on that to view your License Details. Important things to notice are the numbers of activations left as well as your activation password of your license code. Clicking on Manage Installations will show you your Installation History including the name of the computer you gave it during Registration. To Deactivate a computer, simply click the X next to Activate. That will free up the activation to use on another computer.
If you have more then one license code, then in the Product Registration area, you can add the additional license codes to your account (i.e. multi-campus Church). The license code is broken into two parts. The first part is the License ID and the second part is the Password. For example: If your license code is 1234567-ABCDEFG then your License ID would be 1234567 and your Password would be ABCDEFG. So to enter in an additional license code to your account simply enter the License ID and the Password and click Find and Register.