Audio Deck
The new Audio Deck in MediaShout 5.2 allows you to create playlists inside MediaShout or even access your existing playlists in Windows Media Player or iTunes. In addition, you can fire playlists from your script using a Script Control. Learn all about using that tool.
The Audio Deck is found in the Media Deck (where you will also find the Files, Web, and Cloud Decks).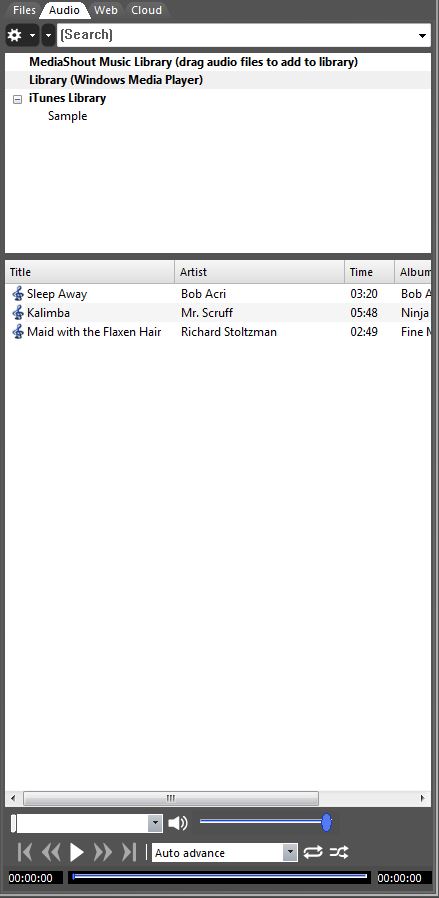 The top of the deck has a Settings button that will allow you to Create and Delete Playlists, Access the Windows Sound Settings, Check Audio Files, and adjust Audio Settings (for the Deck). Next to that is a drop-down for search criteria as well as a search box.
The second part of the Audio Deck is the Playlist Window, where you can select your MediaShout Music Library, Windows Media Player, and iTunes Library. From there you can select individual files to play or you can play entire playlists. (Note: due to copyright restrictions, some features may not be fully available in an iTunes playlist, but you will be able to play them like other playlists).
The third part of the Audio Deck is the list of songs in the selected playlist or library. Here you can see the Title, Artist, Time (Length), and Album if that information is provided.
The final part of the Audio Deck is the player controls. The drop-down box in the top left shows the current audio file being played. To it's right is a volume slider to adjust the volume from the Audio Deck. The next line has control buttons for playback, such as Go To Beginning, Rewind, Play/Pause, Fast Forward, and Go To End. The next drop down has controls for Auto or Manual Advance and then buttons for Looping and Shuffle. The last line is a timeline of the audio file and you can grab the slider and move it to various parts of your audio timeline.
Audio Settings
In the Settings Menu in the top left of the deck is an Audio Settings selection.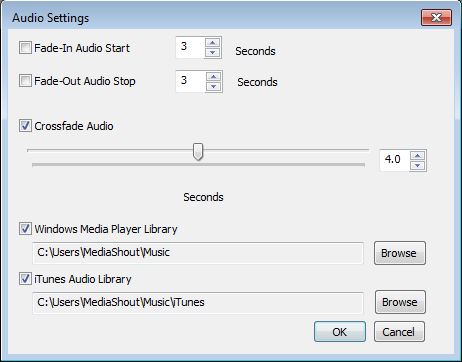 Here you can make adjustments for Fade-In and Fade-Out as well as the time for those to occur. You can also choose to Crossfade your audio as it transitions from one track to another. Finally, you can adjust the location of the Windows Media Player and iTunes Audio Libraries if you have them in different locations from their defaults.