MediaShout Version 4.5 now makes it possible to view your plans and import or link song lyrics directly from Planning Center Online. (requires b259 or later.)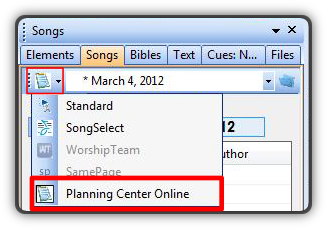 Viewing Plans
Open MediaShout and browse to the Song Deck.
From the Deck Source drop-down menu on the left (see image below), select Planning Center Online. (The first time you use this feature, you'll be asked to log in.)
Use the Plan drop-down menu to select the plan you wish to view. The corresponding plan will load.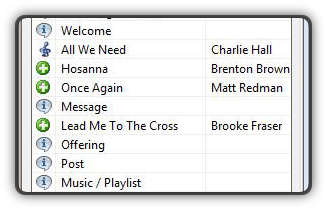 Plan Items
All items in a plan appear as two types of cues:
Lyric cues: All songs in a plan appear as Lyric cues.
Comment cues: All other plan items appear as Comment cues.
Adding items to your presentation
Drag an item (or the Plan Title) from the Deck to add it into your presentation.
Dragging a new song will open the Link Song dialog and will provide the following options:

Add as a new song in your library
Link to an existing song in your library
Skip to ignore the song for the moment