The instructions below will walk you through the steps of adding the information required by CCLI to your songs. Once this information is saved to your template, applying/re-applying the template to your other songs will add this information automatically. You will also need to make sure you have entered your churches CCLI number in MediaShout so it can be added as part of the copyright information. Go to Tools/Settings/Songs and enter your churches CCLI number in the space provided.
Once you have a song open in the Cue Editor:
1. Make sure your editors View is set to Advanced.
2. Make sure you are on Foreground.
3. Make sure Cue is selected/highlighted.
4. Expand Format and select your desired Header/Footer settings.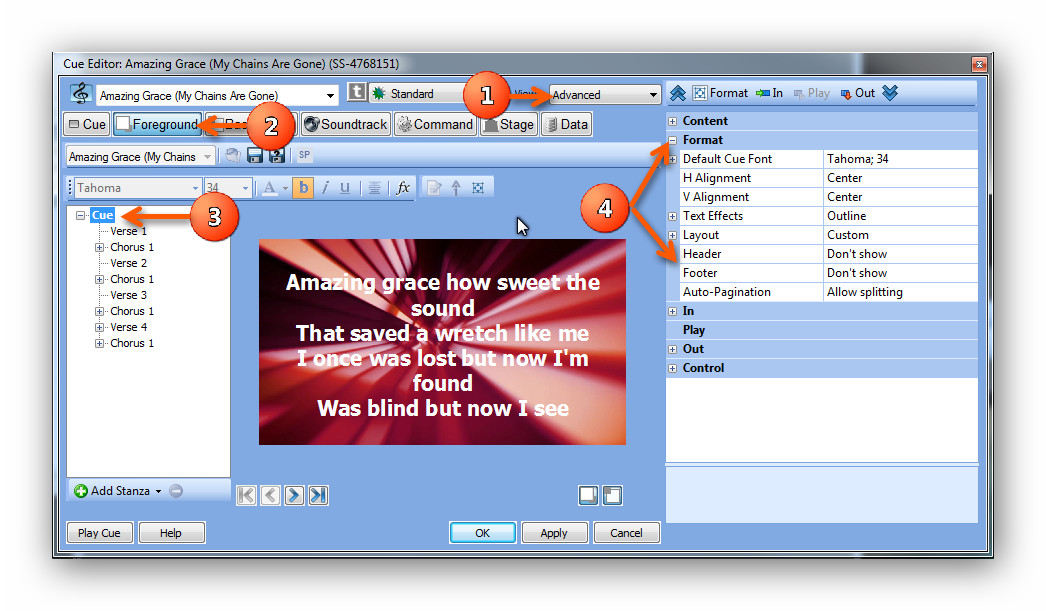 CCLI only requires certain information to be displayed. To add this information do the following. For more details from CCLI please CLICK HERE
1. Select the Stanza that you chose for the Header/Footer. In this case, I select to show the Footer on the Last Stanza Page.
2. You may see the required information already displayed. If so, proceed to the next set of steps. If not, or you are not sure, highlight what information is there and delete it.
3. Click the 'Insert' button and go to Song Data and select the indicated fields. You will need to repeat this step for each data field. Be sure to press the enter key after each data field entry to move the next data field to the next line in the footer.
To edit the way the text looks in the Footer/Header do the following:
1. Highlight all the text.
2. Using the available Tools, you can change the Font size, shape and color. As well as the attributes and alignment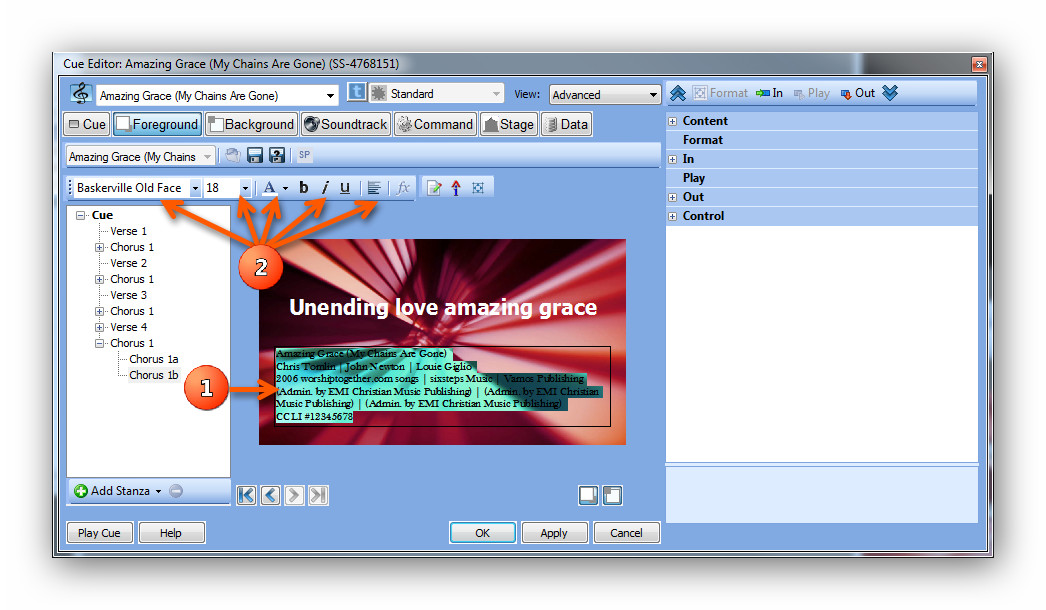 To save this information to a Template do the following:
1. Select/Highlight Cue.
2. Click the Template Options button and select 'Save to Template' or 'Save to New Template' if you want to create a new template.